Christian M. Schrader
Aerospace Engineer and Computer Scientist
---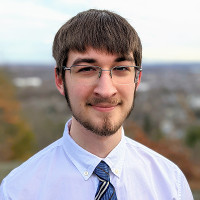 Christian M. Schrader
Aerospace Engineer and Computer Scientist
Worcester Polytechnic Institute, Class of 2021
I'm an Aerospace Engineering graduate student at WPI. My BS is also in Aerospace Engineering with a minor in Computer Science. My focus is in Dynamics, Control, and Simulation although I also have a diverse skillset.
Please note that this website is not up to date right now. This is because I am not activley seeking a new job right now. I am also rebuilding the website. If you have any questions, consider contacting me.
Get to Know Me
This website is a portfolio of my skills and experiences. Whether your looking for something specific or just want to learn a bit more about me, you can navigate with the buttons below or on the header. If you have questions, opportunities, or just want to talk, you can email me using the contact button below or the email button on the footer.
What I'm Doing Now
I'm currently in my final semester of graduate school right now. After I graduate in May, I will be starting my job as an Associate Systems Architecture Engineer at Maxar where I will be doing spacecraft simmulation and mission planning.